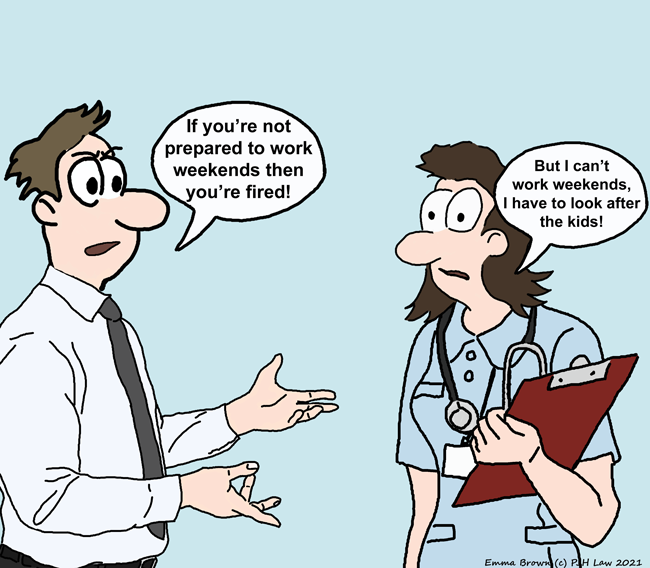 Introduction
Hello and welcome to our case of the week blog. This week, we have an indirect sex discrimination claim. It concerns childcare responsibilities and flexible working.
Facts
Gemma Dobson was a community nurse for an NHS trust. She begun employment in 2004. In 2008, she submitted a flexible working request (to work the fixed days of Wednesday and Thursday), after her first child was born disabled. On those days, her mother in-law was able to look  after her child. In 2016, the trust issued a review of all flexible working arrangements.  It concluded that Ms. Dobson would have to work (occasionally, no more than once a month)  at the weekend. She refused, citing her childcare responsibilities, and was dismissed. She brought a claim for indirect sex discrimination (and unfair dismissal), claiming that  as women disproportionately bear the burden of childcare responsibilities, a requirement  that they must work weekends puts them at a particular disadvantage when compared to men.
The ET
The employment tribunal dismissed her claim. It found that the PCP (Provision, Criterion or Practice)  of requiring staff to work at least one weekend a month only applied to her team, and that within that team, all women (and the one man) could adhere to it. They therefore concluded that the PCP did not put women at a particular disadvantage when compared to men.
The EAT
The EAT (Employment Appeal Tribunal) considered this the wrong approach. They questioned that the PCP only applied to her  team. They found that it applied to all community nurses. This meant that the broader question had to be asked: did the requirement for all community nurses to work at least some weekends put women at a particular disadvantage when compared to men. They answered yes, because women are more likely to bear the brunt of childcare responsibilities and therefore less  likely to be able to do shifts at the weekend. Whether the trust's policy was justifiable was not discussed, as the tribunal did not make a finding on this (having stopped at finding no particular disadvantage in the first place). The case has now been remitted to tribunal.
Comment
The tribunal appears to have gone awry here by using an overly restrictive interpretation of the 'pool' principle. If a claimant is saying they're suffering a particular disadvantage in relation to another individual who does not share a certain protected characteristic belonging to them, because of a PCP that ostensibly applies equally to all, what determines the 'pool' of individuals liable to be compared? In other words, is it just the team that are to be considered, or is it all community nurses? Logic dictates that it is everyone the PCP applies to, but that is sometimes muddied by legalese in indirect discrimination claims.