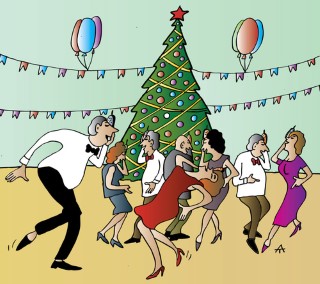 Conduct of staff isn't the only headache that employers face when organising the Christmas party. Every year we get asked questions so we thought we would get ahead of the game.
1.    Do I need a policy statement for Christmas parties?
Many employers issue a policy statement that relates to staff conduct at work socials, if you don't then it may be worth doing one as they can save you a lot of trouble. By outlining what is and isn't acceptable in a policy staff will be aware of what impacts any improper conduct might have and are thus less likely to misbehave. Furthermore, if any problems do arise then there is a clear procedure to follow that limits the possibility of litigation against the company.
As well as our previous case of the week a recent case involving zookeepers further exemplifies the need for a policy. Ms Meerkat Handler and Ms Monkey Keeper were love rivals who got in a brawl over Mr Llama Handler which resulted in the Monkey Handler suffering a gashed cheek. Ms Meerkat Handler was dismissed whilst Ms Monkey Keeper was only given a final written warning. The ET stated that as there was no policy in place the two should have received equal treatment for their part in the brawl.
2.    Can Christmas parties be seen as discriminatory by employees of other religions?
No, office Christmas parties are generally a social celebration to boost staff morale rather than religious rituals. If your party will feature religious segments be mindful of non-Christian employees and be sure to take consideration to any festive holidays they may request, such as Hannukah.
3.    How will a free bar impact on my duty of care?
A free bar will no doubt make you popular with the staff but make sure that there are designated drivers or arrangements for transport home. Furthermore case law states that providing a free bar does complicate things when dismissing employees who commit gross misconduct whilst drunk as you were responsible for providing the booze.
4.    What are employee's rights to holiday at Christmas time?
Despite there being no guaranteed right to time off, under the Equality Act 2010 employers who refuse Christian workers Christmas bank holidays off work could be liable to indirect discrimination claims.
Employers have every right to deny requests for holiday over Christmas time providing that does not prohibit employees from taking their annual leave entitlement.
Any issues regarding working on bank holidays are contractual and there is no statutory right to not work bank holidays, likewise extra pay for bank-holiday working is not a statutory right but a contractual one and important to consider when trying to maintain staff morale.
If you need any help on issues your business may face over the Christmas period then please contact us.